Hearty and Tasty Meals at Heritage Green Assisted Living and Memory Care Assisted Living and Memory Care
Personal Care Dining
---
Sit down with friends in our elegant, home-like dining area, to enjoy your delicious mealtime favorites during breakfast, lunch and dinner that were prepared in consultation with a nutritionist, and are cooked from scratch!
Have a special dietary need? Let us know! Our dedicated dining services staff will work with you to make the appropriate accommodations to your meal plan.
Our chef creates a special menu for holidays and other festive occasions, which is eagerly anticipated by our residents. We strongly encourage families to celebrate along with us!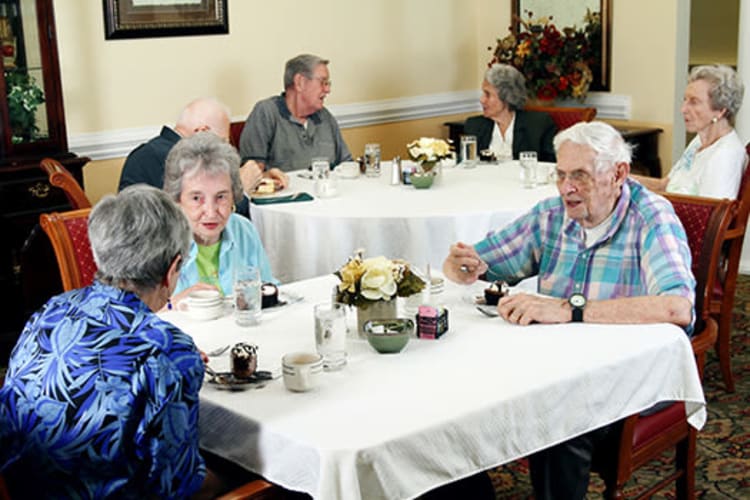 Memory Care Dining
---
Just like in Assisted Living, your loved one is sitting down with friends to enjoy breakfast, lunch and dinner that was prepared in consultation with a nutritionist, and cooked from scratch! In addition to a delicious meal, residents in Daybreak are comforted by a familiar touch, a friendly smile, and encouraging conversation.
Our Chef - Graham Wilson
Director of Dining Services
Graham has 25 years restaurant experience over 15 years as a professional Chef. His passion is for great food and southern style home cooking. Graham's motto is cook from the heart, always with love. He moved from Connecticut to Lynchburg in March of 2018. He have 2 daughters 2 cats and 1 dog. Hobbies include, Range time, painting nails, braiding hair and cooking I love traditional Italian family style food. I am also trained in classic French Cuisine, Sushi, and foods from around the World. I am happy to be here serving you and your families good quality home cooking with love.